Park 915
If you are looking forward to a show at the historic Plaza Theatre, have a meeting Downtown or cannot wait to cheer on the Chihuahuas, you will want to plan ahead and know where to park. The City of El Paso's International Bridges Department manages the 1,900+ on-street parking meters located in Downtown El Paso and the Cincinnati District, known as Uptown. There are also a number of City-managed garages, as well as privately-owned garages open to the public. Find the perfect place to park to enjoy your outing in El Paso!
El Paso WinterFest:
"The most wonderful time of the year" is approaching, and the City of El Paso is gearing up for the start of WinterFest, set to kick off from Saturday, November 18th, extending through the first Monday in January. Visit the website for more details and join us in this Holiday season! You can find more information on the event here.
Park 915 App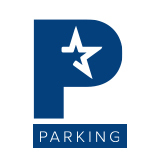 Meters & Garages
Find everything you need to know about rates, operating hours and ways to pay.
Helpful Links
Find information about citations, meter rentals, parking permits and more.
Accessible Parking Info
Patrons with valid disabled parking credentials are, per City Ordinance, allowed to park at a metered space without charge up to the maximum time allowed on the meter. This includes Disabled Veteran plates, red or blue temporary state-issued hangtag, Congressional Medal of Honor, Purple Heart recipients. While patrons with disabled parking credentials can park at any meter, there are twelve-designated accessible spaces throughout the downtown area:
Mills 200: 4 spaces
S. Florence 200: 1 space
Texas 800: 1 space
N. Oregon 500: 1 space
S. El Paso 500: 1 space
S. El Paso 700: 1 space
Mills 500: 1 space
E. San Antonio 800: 1 space
Magoffin 600: 1 space
There are no time limits at these specifically dedicated ADA parking spaces.
Received a Parking Citation?
The International Bridges Department is not responsible for parking enforcement. If you received a citation, you can find answers to your questions about fees and how to pay on the Parking Citations page of the City's website. For enforcement questions please contact El Paso Police Department and/or Municipal Court.